Free eBook – Love Well: Living Life Unrehearsed and Unstuck by Jamie George ($15 Today)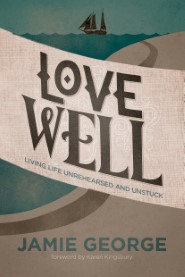 Overview
Love Well exposes the cycle of paralyzing shame, fear, and hopelessness that plagues so many. Through deeply personal stories, Jamie George reveals how to start moving forward toward hope and freedom.
Personally, he also knows what it's like to struggle and feel stuck. Outwardly successful, he struggled privately with doubt over his new calling and his downward spiraling marriage.
In time, he learned what it meant to become an apprentice in the art of unrehearsed living. God showed him how to embrace a journey of subtraction – letting go of shame, regret and all that bogged him down to allow space for the deeper rhythms of relationship and faith.
Love Well is a revolutionary book that invites us to make the shift and start moving forward – towards God, others, and life!
https://vyrso.com/product/40853/love-well-living-life-unrehearsed-and-unstuck
http://www.dccebooks.com/products/love-well