Free eBook – Enough by Will Samson ($13 after 6/19)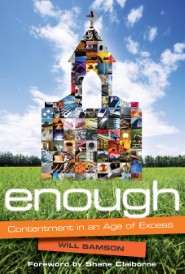 Overview
How much is enough?
In an age of conspicuous consumption—of designer sunglasses, jeweled cell phones, and five-thousand-square-foot homes—is it possible to be content? In a society where children spend more time worrying about their weight than their grades, is it possible to find peace? In a world being drained of its natural resources, is it conceivable that we do nothing? And with a universe of dazzling temptation at our fingertips, will we still seek the God of all creation?
Will Samson is good at opening thoughtful dialogue; a recent conversation was about social justice. In Enough, his latest wide-ranging, insightful book, Will addresses the idea of finding contentment in this age of excess. With a casual, accessible writing style, he discusses consumerism, contentment as a Christian discipline, and the notion of stewarding our resources. In four sections, Will outlines the ideas that drive a consumeristic mindset; the effects those ideas have on ourselves, our communities, and the earth; conclusions about the situation; and practical solutions for negotiating everyday life once we understand that our abundant God is, in fact, enough.
If you're exhausted from keeping up with the Joneses, or if you're looking for the balance between what is necessary and what is too much, just stop. Enough is enough.
https://vyrso.com/product/17470/enough