Free eBook – For WORDsearch – Confessions of St. Augustine by St. Augustine of Hippo ($10 Normally)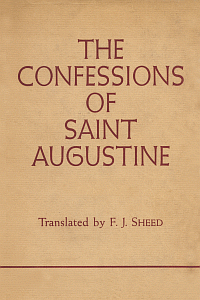 Grant me, O Lord, to know and understand whether first to invoke thee or to praise thee; whether first to know thee or call upon thee. But who can invoke thee, knowing thee not? For he who knows thee not may invoke thee as another than thou art. It may be that we should invoke thee in order that we may come to know thee. But "how shall they call on him in whom they have not believed? Or how shall they believe without a preacher?" (Rom. 10:14.) Now, "they shall praise the Lord who seek him," (Psa. 22:26.) for "those who seek shall find him," (Matt. 7:7.) and, finding him, shall praise him. I will seek thee, O Lord, and call upon thee.Happy Friday everyone! Today's free download, usually $9.95, is The Confessions of St. Augustine by St. Augustine of Hippo.
The Confessions of St. Augustine is written in the form of a long prayer addressed directly to God. This remarkable chronicle of his conversion to Christianity endures as the greatest spiritual autobiography of all time. As Augustine did, you can also experience the joy of being pure and righteous before God, regardless of your past.
As you read his story, he reveals how you can also find the way to:
    Rest securely in Jesus
    Discern good from evil
    Obtain answers to prayer
    Receive eternal life
    Avoid spiritual detours
    Understand the will of God
    Experience the power of the Holy Spirit