Free eBook – Meet Mrs. Smith: My Adventures with Six Kids, One Rockstar Husband, and a Heart to Fight Poverty by Anna Smith, Carolyn Johnson ($15 Normally)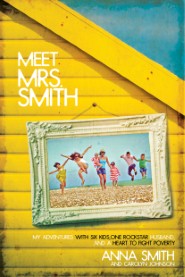 With a good dose of spiritual insight, parenting advice, and wry humor, Anna Smith chronicles her life as wife of the lead singer of Delirious?, the history-making band that launched the modern-day worship movement.
 
A feast of behind-the-scenes insights about life as an international celebrity, this book is also a profound look at one family's quest to foster a rich spiritual life and care for others while living well in a consumption-driven world. This book is about not settling for less—in life, as a parent, and as a rock star—but doing everything with soul purpose. Readers will come away entertained and inspired, ready to surprise the world with their desire to do great things for God.
https://www.amazon.com/Meet-Mrs-Smith-Adventures-Rockstar-ebook/dp/B00C6PX036/ref=sr_1_1?s=digital-text&ie=UTF8&qid=1468884525&sr=1-1&keywords=Meet+Mrs.+Smith%3A+My+Adventures+with+Six+Kids%2C+One+Rockstar+Husband%2C+and+a+Heart+to+Fight+Poverty+by+Anna+Smith#nav-subnav
https://vyrso.com/product/31307/meet-mrs-smith-my-adventures-with-six-kids-one-rockstar-husband-and-a-heart-to-fight-poverty
http://www.christianbook.com/adventures-rockstar-husband-fight-poverty-ebook/anna-smith/9780781406109/pd/39481EB?event=ESRCN
http://www.barnesandnoble.com/w/meet-mrs-smith-anna-smith/1112014828?ean=9780781406109
Video about the book
https://youtu.be/o3JE8f1v3zE