Free eBook – (QuickVERSE/WORDsearch) 365 Days In The Presence of God : Daily Devotions From the Sermons by Frank E. Ray Sr. ($15 Normally)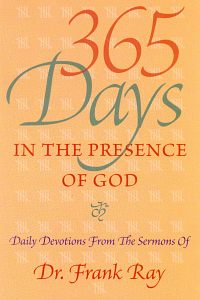 We must actively prepare for His coming by staying true to the faith, actively working for the Lord, keeping our hearts and minds right, and doing good. 1 Corinthians 15:51-52 "Behold I show you a mystery. We shall not all sleep, but we shall all be changed, in a moment, in the twinkling of an eye." We must keep the hope fresh that He will come back again. 1 Thessalonians 4:16-17, "For the Lord himself shall descend from heaven, with a shout, with a voice of the archangel, and with the trump of God and the dead in Christ shall rise first. Then we which are alive, and remain shall be caught up together with them in the cloud to meet the Lord in the air, and so shall we ever be with the Lord." There must be personal preparation.
Happy Friday everyone! And thank you to our veterans. Today's free download, usually $15.00, is 365 Days in the Presence of God by Frank E. Ray Sr.
We all need encouragement as we start each day with new dilemmas and challenges. This devotional, drawn from the sermons of Dr. Frank Ray Sr., one of America's most respected Bible teachers, offers you a fresh dose of God's word along with God's wisdom. We need God to give us discernment and direction in our daily walk. As we dwell in God's word, we receive the answers we need for every situation we may face.
http://blog.wordsearchbible.com/2016/11/11/free-friday-365-days-in-the-presence-of-god/#more-2431
https://www.wordsearchbible.com/freefriday?g=1003