Free $40 QV-WS Bible Tools Bundle for PC & MAC ($1,000 Value)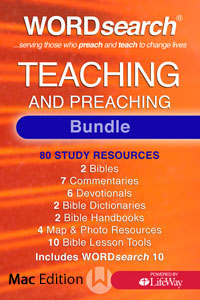 80 Powerful Bible Tools That Will Help You Teach
The WORDsearch (AKA Quick Verse) Teaching and Preaching Bundle is a digital library that was created for anyone who studies and teaches God's Word. It's packed with 80 teaching tools that will make creating Bible lessons and sermons easier than ever before. WORDsearch saves teachers time in study and lesson preparation.
In order to put his into the hands of as many Bible teachers as possible, we sell this package for the lower price of $39.95. But for teachers and preachers who are friends of Rose Publishing, this package is FREE for a limited time.
BONUS: This package includes a free digital copy of Rose Publishing's Deluxe Then and Now Bible Maps. This map set ($29.95 value) is ideal for illustrating Bible geography, and with the click of your mouse you can toggle between ancient borders and modern times.
If you currently use another brand of Bible software, this is not a problem. WORDsearch can run alongside any software, and it's easy to use. It will run on nearly any PC or Mac. Plus, once you register your free software, all your study tools will be available to you on your desktop, at our cloud site (myWSB.com), and on your mobile devices with our free apps.
Take advantage of this free offer and see for yourself. We are confident you'll love WORDsearch and return for the thousands of additional study tools available (many of those are free too).
Video Overview
https://youtu.be/-87DET_Q_vI
To order:
https://www.wordsearchbible.com/9400?g=9400
Not sure?
Download, create an account and "SIT" on it until you are ready.  You will be able to collect OTHER free books in days to come.