Free $8 eBook – Simple Church by Thom Rainer (Today Only)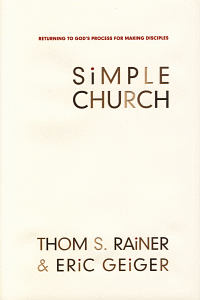 Simple Church : Returning to God's Process for Making Disciples by  Thom S. Rainer and Eric Geiger
Category – Evangelism & Church Growth
This book is not about another church model. If you are a church leader, you have been exposed to plenty of models. Most of them are on your shelf. Or worse, you have blended a bunch of models into one schizophrenic plan. If that is the case, neither you nor the people in your church are really sure what your church is all about. We see it all the time…
After hundreds of consultations with local churches and a significant research project, we have concluded that church leaders need to simplify. They are constantly asking, "How can we make all this work? How can we put all the pieces together?" Many of the church leaders we talk to are seeking an escape from the not-so-simple life.
Simple Church clearly calls for Christians to return to the simple gospel-sharing methods of Jesus. No bells or whistles required, so to speak.
Based on case studies of four hundred American churches, authors Thom Rainer and Eric Geiger prove that the process for making disciples has quite often become too complex. Simple churches are thriving, and they are doing so by taking these four ideas to heart: Clarity. Movement. Alignment. Focus. Each idea is examined here, simply showing why it is time to simplify.
https://www.wordsearchbible.com/freefriday?g=1003