Free $13 eBook – In Real Time By Michael Glenn (Today Only)
In Real Time Authentic Young Adult Ministry as It Happens by Michael Glenn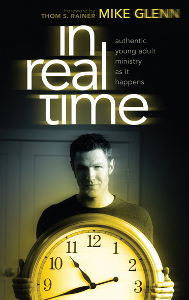 A common misconception is that the leader brings the worship, that I can go find somebody who will bring worship to a congregation. That's dead wrong. You cannot conjure up worship. The individual brings it. Worship is the response of a living person to the living God. The worship leader can provide the moment. He can provide the tools, the structure to give me a good place to express my response to God, but he doesn't bring the worship into the room.
Research shows that churches are seeing a dramatic decrease in the membership of 18 to 34 year-olds. One major cause traces back to when the gospel was watered down to a non-confrontational level for baby boomers, resulting in a generation that proclaimed faith without changing its lifestyle. Now many among that generation's children feel less endeared to the church if not suspicious of its worth considering their parents' conflicting beliefs and actions.
As the need for relevant young adult ministry programs increases, the best example of a successful one in action today is Kairos, a weekly worship gathering of more than one thousand young single and married people in Nashville. Real Time tells the story of how this ministry unfolded, and its overriding message is one that churches everywhere can take to heart and apply.
https://www.wordsearchbible.com/products/35598-in-real-time?g=1003