Free $10 eBook, Basic Accounting for Churches by Jack A. Henry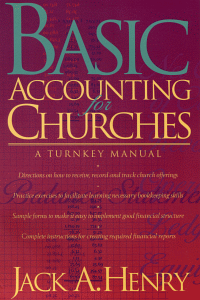 Good money management will make it possible to buy things that have long-lasting value like buildings and land. Money spent on buildings, land, and equipment is really not "spent," but is merely invested in other kinds of assets. Converting money assets into other types of assets that are necessary to carry on the various ministries of your church, instead of spending it on expenses of ministry, preserves your net worth. A substantial net worth is considered to be a good sign in the business world, and is not wrong for a church. However, a church's net worth should not be its primary measure of good financial stewardship. You and your church must balance how you spend and invest your financial resources to accomplish the particular mission God has assigned to you.
Money management is the art and science of developing and carrying out a spending plan. The author has written a true "everything-you-need-to-know" guide to sound and healthy money management-from the most basic accounting principles to sample forms and ledgers, computer tips, filing systems, and more. It's a book that proves church finances don't have to be tedious, complicated, and confusing. With complete yet simple explanations, plenty of examples, practice exercises, and a step-by-step approach, it'll soon have you working through your church accounts with confidence.
https://www.wordsearchbible.com/freefriday?g=1003