Free $25 eBook – Criswell's Guidebook for Pastors by Wallie Amos Criswell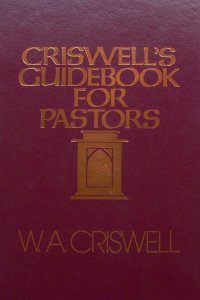 In God's economy, there is no such thing as the delivery of this glorious message of truth without a preacher. In the elective purpose of God his will and work are made known to us through a living personality. This is the essence of preaching and is the first, primary calling of the pastor.
This guidebook by W.A. Criswell touches on all aspects and functions of today's pastor. Dr. Criswell deals with wide areas of concern including the pastor's role in Christ's plan, the preaching and study duties of the pastor, the pastor's relationships, the pastor's administrative duties, the personal life of the pastor, and such pastoral duties as weddings, funerals, counseling and pastoral dos and don'ts.
https://www.wordsearchbible.com/freefriday?g=1003