Free $12 eBook- The New Guidebook for Pastors by Mac Brunson and James W. Bryant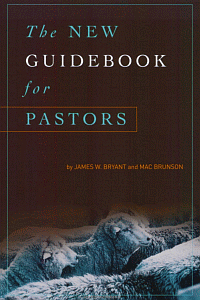 You would think that the closer a man comes to God, the cleaner and holier he will feel. In fact, just the opposite is true. No serious preacher of the gospel feels worthy of the call to preach. If he does, he is headed for destruction and disillusionment. The call to preach does not make us feel any more holy than the call to salvation does. The closer you get to God, the brighter the light is and the more you see yourself as sinful. Isaiah was convicted of his sinfulness, and he cried out, "Woe is me, for I am ruined, because I am a man of unclean lips and live among a people of unclean lips, and because my eyes have seen the King, the Lord of Hosts" (Isa. 6:5).
The New Guidebook for Pastors is written in the tradition of classics like Criswell's Guidebook for Pastors. But since most pastoral guidebooks available today date back to 1980 or earlier, this new resource by Mac Brunson and James W. Bryant will offer fresh experience-based encouragement to all pastors in their pursuit of excellence and development in their God-called profession.
Among the twenty chapters are:
"The Pastor and His Call,"
"The Pastor and His Family,"
"The Pastor and His Staff,"
"The Pastor and Worship,"
"The Pastor and Finances,"
"The Pastor, Wedding, and Funerals,"
"The Pastor, Politics, and Moral Issues," and
"The Pastor and His Denomination."
https://www.wordsearchbible.com/freefriday?g=1003