Free $20 eBook (QuickVerse/WORDsearch) Defending Your Faith – An Introduction to Apologetics by R.C. Sproul (This weekend only)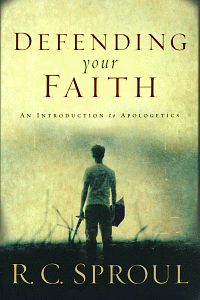 Apologetics, for this reason, is not merely about winning an argument. It is about winning souls.
You know what you believe, but could you explain it to someone who has strong doubts about Christianity truth claims?
Those who oppose Christianity work hard to close the minds and mouths of those who profess belief in Jesus, trying to make faith seem uneducated or naive. From secular universities to mainstream media, Christians find their fundamental beliefs challenged and ridiculed daily. In this book, respected author and teacher R.C. Sproul equips readers to give a convincing presentation of what they believe and to combat the common assault on their commitment to Christ.
Defending Your Faith is a survey of the history and fundamentals of apologetics. Dr. Sproul shows how reason and scientific inquiry can be allies in defending the existence of God and the historical truth claims of Jesus Christ. Readers who want a logical, biblical defense of the faith will find this book an indispensable resource for individual, small-group, or classroom study.
https://www.wordsearchbible.com/freefriday?g=1003