Free eBook – How to Raise a Modern-Day Joseph by Linda Massey Weddle ($18 after 7.20.2015)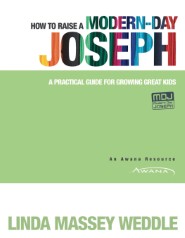 Overview
As parents, we strive to help our kids grow into their full potential. We help them with their homework, get them involved in planned activities, and invest for their college education.
But while we may plan for their success, we can overlook a vital part of their personal development: Nurturing and encouraging a solid foundation of faith.
It can be easy to assume our children are growing spiritually in church youth groups and programs. Yet it's vital that we take an active role in guiding them in their relationship with Jesus.
The life of Joseph offers parents a Biblical standard for building children of character. Drawing from his story, this book will help you do just that. Inside you'll find a unique guide for creating a personalized plan for your child's spiritual growth, from preschool through high school. This practical guide will help your child:
• Acquire wisdom from the Bible
• Understand God's grace
• Gain a sense of destiny and purpose
• Develop a life-perspective based on God's perfect plan
The result: Children and teenagers who know, love, and serve the Lord.
So invest in their spiritual development. And create a legacy of faith that will last a lifetime.
https://vyrso.com/product/39850/how-to-raise-a-modern-day-joseph