Free eBook – Hope…the Best of Things by Joni Eareckson Tada ($3 after 12.31.2015)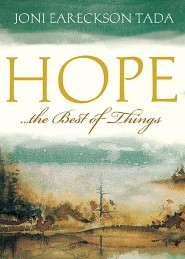 Overview
This special booklet guides readers toward a fresh perspective on suffering that is grounded in this beloved author's life experiences and journey with God.
For forty years, Joni Eareckson Tada has lived in a wheelchair as a spinal cord-injured quadriplegic. And the heaven-sent hope found only in Christ has saved her life.
Seeking to share stories and scriptural encouragement, as well as hard-won insights about suffering and the goodness of God, Joni has written this special booklet so that those who long to find hope will draw closer to God and develop new eyes toward their difficulties. Yes, hope can be hard to come by, she admits, but "oh, how we need to grasp the soul-settling hope found in the pages of God's Word and allow it to overflow our hearts, transforming us into people who are confident and at peace with ourselves, our God, and our circumstances."
In her life's journey, Joni has learned to meet suffering on God's terms-learned that joy is for real. And most of all, Joni has learned that hope is the best of things when we give it a chance. This book powerfully communicates all these truths from someone who has lived them, and thus can encourage even the most discouraged of readers in the worst of circumstances.
Author:
Joni Eareckson Tada is the founder of Joni and Friends, an organization accelerating Christian outreach in the disability community that numbers 610 million people worldwide. This organization operates out of the new Joni and Friends International Disability Center located in Agoura Hills, California. Joni is not only an international disability advocate but an artist and the author of numerous bestselling books, including Pearls of Great Price, Diamonds in the Dust, More Precious Than Silver, the Platinum award-winning Joni, Heaven: Your Real Home, When God Weeps, and The God I Love.
https://vyrso.com/product/14456/hopethe-best-of-things?utm_source=vyrso_freebies&utm_medium=email&utm_content=5274569&utm_campaign=promo-vyrsofreebooks2015
http://www.amazon.com/Hope-Best-Things-Joni-Eareckson-ebook/dp/B001CU9OB8/ref=sr_1_4?ie=UTF8&qid=1449254164&sr=8-4&keywords=joni+tada