Free eBook for WORDSearch & QuickVerse – The Mentoring Manifesto by Regi Campbell (usually $4)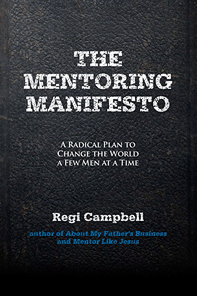 As mature Christian men, we've learned that loving Jesus and following Him is the secret to life. If we've truly experienced walking with Him, we want to share that knowledge and experience with others. Mentoring is simply that sharing what we've learned about living life with guys who are a few steps behind us on the path.
Just look at how Jesus made His disciples. He picked them, walked through life with them, teaching them what He knew along the way. He challenged them, prayed for them, loved them individually and collectively, and then He "graduated" them and sent them out to "pay it forward" to others. He gave them assignments and then debriefed them when they returned. Sometimes He took over situations and finished them when His disciples couldn't. Jesus "rubbed off" on his guys. Sounds like a mentor to me.
Men feel a calling to give back. To build into other men. To pay it forward. The Mentoring Manifesto will inspire you to become a mentor or a more effective mentor. Will you step up? Will you accept the call? If you don't read anything else in this book, read this: Helping younger men find the peace, purpose and fulfillment of living God-centric lives will give you unparalleled peace, purpose and fulfillment in your life. This 28 page short from best-selling author Regi Campbell will help you change the world, a few men at a time. For more information on effective mentoring, check out Regi Campbell's wonderful full length book Mentor Like Jesus from B&H Publishing Group.
http://blog.wordsearchbible.com/2016/02/26/free-friday-the-mentoring-manifesto/#more-1149
https://www.wordsearchbible.com/freefriday?g=1003