Free $15 eBook – When the Vow Breaks: A Survival and Recovery Guide for Christians Facing Divorce.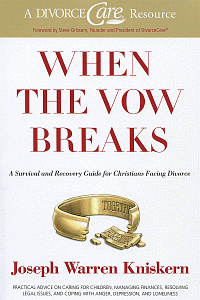 Saying that divorce is an ugly nightmare is an understatement. Divorce is full-scale devastation! It cuts into hearts and souls deeper than most any other tragedy imaginable. It shatters precious memories as it strips us of family, roles, and identity. It saps our strength and breaks down the core of our spirits until emotional numbness and fog set in. It reduces one of the most intimately personal relationships we can ever share with another human being to sharp shards of broken dreams.
Divorce in the Christian home. Contrary as it is to God's ideal, and hard as it is for many Christians to accept, it is a harsh, painful reality.
What can you do as a Christian when facing your own divorce? Or how can you help someone else who's going through one? When the Vow Breaks is a valuable resource, written by a Christian who has lived through an unwanted divorce himself.
In this sensitive yet extremely comprehensive guide attorney Joseph Warren Kniskern describes the emotional aspects of his own failed marriage, while also providing a thorough study of what the Bible says about marriage, divorce, and remarriage. More importantly, he shows how God can and does continue to work in people's lives, even in the aftermath of divorce.
With its extensive bibliography and other useful aids, such as sample financial settlement statements and legal correspondence, When the Vow Breaks is a must for anyone facing or recovering from the break up of a marriage.
https://www.wordsearchbible.com/freefriday?g=1003