Free $20 eBook – Spiritual Leadership  by Henry T. Blackaby 
Free eBook for QuickVerse / WORDsearch –  Spiritual Leadership : Moving People to God's Agenda by Henry T. Blackaby ($20 Normally)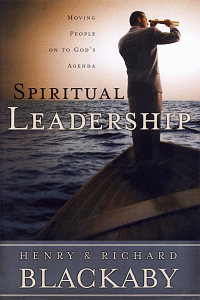 Leadership. Everyone experiences it, or the lack of it, in their daily lives. Those called to lead can find doing so a daunting task. Those expected to follow can experience frustration when their leader is unable to lead and their organization seems to be going nowhere. Struggling leaders may agonize in the knowledge that others resent them and blame them for their organizations' failures. Countless discouraged leaders would probably quit their jobs today, but they need the income. Besides, they fear the same problems would engulf them in their new jobs. Discouraged, Christian leaders carry the added, albeit misguided, burden that they are failing not only their people but their Lord. They feel guilty because they lack the faith to move their organization forward yet the same fears prevent them from leaving their leadership positions for jobs where they might be more successful. Is there any hope for the countless numbers of leaders who are not experiencing the fulfillment and reaching the potential God intended for them? If anything can revolutionize today's Christian leaders, it is when Christians understand God's design for spiritual leaders.
Today's free download, usually $19.95, is Spiritual Leadership by Henry T. Blackaby and Richard Blackaby.
Drawing upon their own extensive leadership experience as well as their ministry to leaders in all walks of life. Henry and Richard Blackaby offer insightful counsel into the ways God develops, guides, and empowers spiritual leaders. Clear guidance is given on how leaders can make a positive impact on the people and organizations they are currently leading.
Filled with practical, biblical principles, Spiritual Leadership will be a book you refer to over and over again as you seek to be the man or woman that God has intended for you to be.
https://www.wordsearchbible.com/freefriday?g=1003