Free $13 eBook – Revitalizing the Sunday Morning Dinosaur: A Sunday School Growth Strategy for the 21st Century By Ken Hemphill.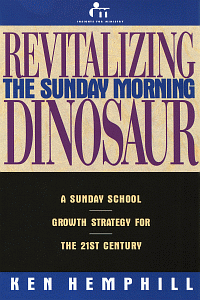 "The Sunday School is the finest integrated church growth tool on the market today!" I have begun numerous conferences in various denominational settings with this assertion. My bold declaration has elicited responses varying from mild amusement, to incredulity, to outright scorn, to enthusiastic endorsement. Often religious educators applauded because they felt a certain sense of satisfaction and job security. Many, however, were guarded in their endorsements because they had not seen their ministry in terms of church growth. Other educators were somewhat hostile because they feared that the emphasis on church growth through the Sunday School would compromise their commitment to educational excellence. In truth, their Sunday School programs were not resulting in church growth. Many pastors stared at me blankly thinking, If the Sunday School is a church growth tool, somebody unplugged mine!
According to church growth expert, Ken Hemphill, Sunday School is not only worth saving, it has potential to revitalize your entire church. Revitalizing the Sunday Morning Dinosaur gives you specific, detailed steps on how to lead your congregation in making it happen, including:
Six reasons for the decline of Sunday School
Nine reasons why Sunday School is the growth of the future
How to revive an ineffective Sunday School program or start a new one
How to keep a good Sunday School going strong
Turn your Sunday School program from one of extinction to one of distinction.
https://www.wordsearchbible.com/freefriday?g=1003