Free eBook $15 – A Simplified Harmony of the Gospels by George W. Knight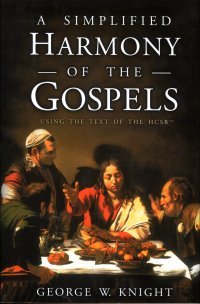 This book reflects George W. Knight's conviction that there is a need for a simplified harmony directed to a popular audience; laypeople, ministers, Bible teachers, and other nonspecialist Bible students. Most harmonies are designed for scholars and other specialists who know the original Greek language and there is certainly a place for these books. But, in Knight's own Bible-teaching ministry, he often wished for a harmony that was simple, straightforward, and easy to use. The A Simplified Harmony of the Gospels is designed to meet this need.
This book also goes a step beyond most harmonies by including explanatory notes on the Gospel narratives. The purpose of these comments is to help the reader understand and apply the life and teachings of Jesus. Space limitations have kept these notes brief, but they still provide helpful information for general Bible students who do not have access to longer commentaries on the Gospels.
https://www.wordsearchbible.com/freefriday?g=1003