Free $12 eBook – Tough Times – Have Faith in God by Arthur T. Jones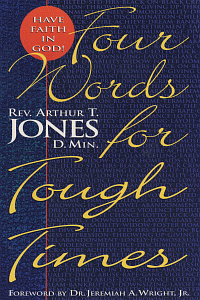 Company downsizing, financial problems, bankruptcy, domestic violence, crime, divorce, psychological and physical abuse, continuing racism, malicious militias, alcohol and drug abuse, illness, poor educational systems, and uncontrollable children are among the problems that members of your church face daily. Coming to the pastors and members or our counseling ministry for help with these problems, they constantly remind us that Christians are not exempt from the problems encountered by the rest of society. However, Christians have a way out. They have the assurance that God is working all things together for their good (Romans 8:28). Sometimes however, in the midst of the storms of life, Christians forget that their God is always with them.
The development of this series of sermons and study guides is just one of the Holy Spirit's ways of challenging all Christians to "not forget to remember" the four little words which are the answer to our problems – "Have Faith in God!" The people of God must have unreserved and absolute trust in God. These sermons and study guides are designed to help God's people do just that, make faith a reality in their lives.
https://www.wordsearchbible.com/freefriday?g=1003