Free $18 eBook – A Layman's Commentary on Revelation with Study Guide by Don Jones.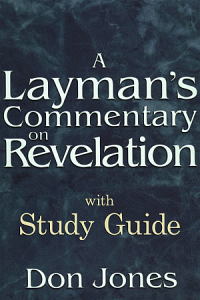 A Layman's Commentary on Revelation traces a journey through the vision John records in the Bible's last book. Along the way, questions about this world's end, God's judgment of all people, and His promises of new life in the kingdom find their answers in Revelation's visions of drama, worship, and the apocalypse.
Author Don E. Jones brings more than five decades of experience in preaching and teaching the Bible to his commentary, presenting a close reading of the biblical text, the insights of noted Bible scholars, and the answers to questions that often arise when individuals encounter the world of Revelation. This guide describes the overarching narrative of Revelation as a seven-act drama.
If you wonder how to make sense of Revelation, find yourself puzzled by its strange imagery, or seek answers to the ultimate questions of life, then A Layman's Commentary on Revelation can guide you through the pages of John's vision. It takes your searching questions and God's answers seriously, giving both attention in light of the cosmic drama John shares with Christians of all ages.
https://www.wordsearchbible.com/freefriday?g=C753