Free $28 eBook (Logos) Brazos Theological Commentary on the Bible: Acts by Jaroslav Jan Pelikan
After FREE Purchase — Click start reading now, download Logos App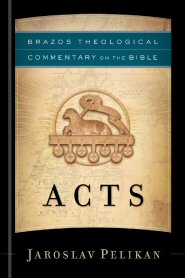 Overview
Jaroslav Pelikan, one of the most well-respected scholars in the history of Christianity, brings you an insightful and well articulated commentary on Acts. This distinctly theological commentary focuses more on the themes and dogmas of Acts, rather than the text itself.
With Logos, every word is essentially a link! Scripture references link directly to the Bibles in your library—both the original language texts and English translations. Double-clicking any word automatically opens your lexicons to the relevant entry, making Latin words instantly accessible. With Logos, you can quickly move from the table of contents to your desired content, search entire volumes and collections by topic, title, or Scripture reference.
Get all 20 volumes of Brazos Theological Commentary on the Bible here!
Contains an in-depth introduction
Offers theological analysis of Scripture
Includes bibliographical references and indexes

This remarkable project is especially lucky in its inaugural volume on Acts of the Apostles by the noted historian of dogma, Jaroslav Pelikan. If the rest of the commentators live up to the high standard set by Pelikan . . . the series could end up marking a turning point in the history of biblical hermeneutics.
—Edward T. Oakes, professor of systematic theology, University of St. Mary of the Lake/Mundelein Seminary
[Acts] has all the marks of Pelikan's scholarship: a close reading of the Greek text; a verse-by-verse commentary on that text studded with references to the great patristic commentators; and a constant eye on the theological and homiletical possibilities of the text itself, as well as its place in the liturgical life of the church both West and East.
—Lawrence S. Cunningham, John A. O'Brien Professor of Theology, University of Notre Dame
Title: Brazos Theological Commentary on the Bible: Acts
Author: Jaroslav Pelikan
Editor: R. R. Reno
Publisher: Baker
Publication Date: 2005
Pages: 320
https://www.logos.com/product/30834/brazos-theological-commentary-on-the-bible-acts