Free $8 (WORDSearch/QuickVERSE) Hearing God's Word – Expositional Preaching by Bobby Jamieson (This weekend only)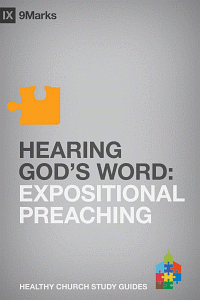 If a healthy church is a congregation that increasingly displays the character of God as his character has been revealed in his Word, the most obvious place to begin building a healthy church is to call Christians to listen to God's Word. God's Word is the source of all life and health. It's what feeds, develops, and preserves a church's understanding of the gospel itself.
Expositional preaching gives life and health to the church. It shapes, forms, and reforms the church, and it reveals the character of God. Participants will learn to understand their joyful responsibility in sitting under a pastor's teaching, and pastors will be encouraged to preach expositionally—from the Bible!
A series of ten 6–7 week studies covering the nine distinctives of a healthy church as originally laid out in Nine Marks of a Healthy Church by Mark Dever. This series explores the biblical foundations of key aspects of the church, helping Christians to live out those realities as members of a local body. Conveniently packaged and accessibly written, the format of this series is guided, inductive discussion of Scripture passages and is ideal for use in Sunday school, church-wide studies, or small group contexts.