Free $16 eBook – Love Dare Day by Day – A Year of Devotions for Couples by Stephen and Alex Kendrick (Exp 2.16)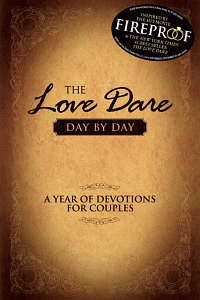 Happy Valentine's Day!
Every Friday we offer a free book until the following Monday with no strings attached. This is just our way of saying thank you for being a part of the Wordsearch family!
The Love Dare Day by Day: A Year of Devotionals for Couples
Love is a choice. A daily choice. The Love Dare Day by Day is a daily reminder of how it's done —and done well—taking the source material's original experience to the next level.
With 52 weekly dares, this one-year devotional invites you to go deeper into the scriptural principles of The Love Dare and is meant to enrich your relationship with God and your spouse through a daily time of reading, prayer, and action.
Make this more than a year of your life. Make it your bold, next step to a lifetime of love.
Features of this book include:
365 devotional readings on unique aspects of genuine love
52 weekly dares to help you express love in your marriage
Dozens of specific prayers to pray for yourself and your spouse
Questions to get you thinking strategically about your relationship
More than 100 Go Deeper sections that enhance personal Bible study
https://www.wordsearchbible.com/freefriday?g=1003
<><
To access this book, you may need the App or download program for your computer (each are free)
Wordsearch Bible App for iPhone
https://apps.apple.com/us/app/wordsearch-bible/id484607082?mt=8&ign-mpt=uo%3D4http:// https://apps.apple.com/us/app/wordsearch-bible/id484607082?mt=8&ign-mpt=uo%3D4
Wordsearch Bible App for Android
https://play.google.com/store/apps/details?id=com.lifeway.wordsearchreaderhttps://play.google.com/store/apps/details?id=com.lifeway.wordsearchreader
WORDSearch STARTER for PC (With 10 Free Books)
https://www.wordsearchbible.com/apps/wordsearch-starter
Additional FREE WORDSearch Books
https://www.wordsearchbible.com/products/free
<><