Free $10 eBook – Where'd That Come From? Everyday Expressions Found in the Bibleb by Steven M. McCalip (Expires April 26)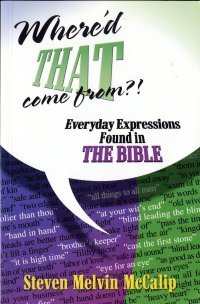 The English language is replete with idioms, sayings, and expressions of which a surprising number originate from or were made popular by the King James Version of the Bible. The words of this Bible translation have become imbedded in our common speech, yet we often speak biblical phrases daily without realizing we are quoting or alluding directly to the Bible. Some of the hundreds of examples include:
• "Rise and shine"
• "Give up the ghost"
• "The skin of your teeth"
• "See eye to eye"
• "Safe and sound"
• "Eat, drink, and be merry"
In preparing this book, McCalip chose the sayings that he felt were most often used based on his personal experience and research. The expressions and common sayings listed in this book are all considered to be popular at one time or another by various authorities of English language studies. All scripture quotations found in this book are from the King James Version.
A major portion of this work has been dedicated to explaining the biblical context of these phrases. Each popular expression is highlighted in the Scripture in which it is found, and each expression's biblical meaning (when not obvious) is discussed as well. The subject matter of the surrounding verses and the doctrines taught in those Scriptures are also often discussed. Helpful appendices contain less-detailed lists of biblical expressions from yesteryear along with lists of motion picture and popular music titles containing catchphrases from the Bible.
Free – https://wordsearchbible.lifeway.com/freefriday?g=1003
https://wordsearchbible.lifeway.com/products/19274-where-d-that-come-from
<><
<><
To Access Book, use WORDSearch (QuickVerse) Bible App
Wordsearch Bible App for iPhone
https://apps.apple.com/us/app/wordsearch-bible/id484607082?mt=8&ign-mpt=uo%3D4
WORDSearch Bible App for Android (Copy & Paste Link if having issues)
https://play.google.com/store/apps/details?id=com.lifeway.wordsearchreader
WORDSearch STARTER for PC (With 10 Free Books) (Copy & Paste Link if having issues)
https://www.wordsearchbible.com/apps/wordsearch-starter
Additional FREE WORDSearch Books (Copy & Paste Link if having issues)
https://www.wordsearchbible.com/products/free
Web Access
https://wordsearchbible.lifeway.com/apps/web-app
<><<><