Free $15 eBook – Church Without Walls by Jim Peterson (Expires August 17, 2020)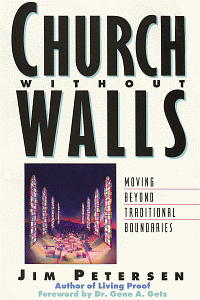 By habit, the church has come to mean a place. A place where we congregate, a place where we build up believers. But as long as that's our whole understanding of church, we miss one of our primary functions as the people of God: being out in the world for the sake of the lost.
"The sad reality is that going to the lost and living Christlike lives among them is not in our ecclesiology," says author Jim Peterson. Throughout its history, the church has pushed for institutionalism in an effort to preserve the purity of the gospel. As a result, we've evolved into congregations that meet inside the walls of a building – rather than vital communities that live among the lost.
In Church Without Walls, Jim Peterson offers an exciting definition of the church that pushes beyond the too-small boundaries we've inherited from the past. A vivid and inspiring call to every believer, Church Without Walls explores:
• Why church forms that have outlived their functions impede the gospel in today's world
• Forgotten New Testament practices that would allow a more mobile and diverse expression of the people of God
• The importance of distinguishing between church tradition and biblical absolutes when communicating the gospel among the lost
• What we need to know about today's society in order to make the gospel truly accessible and transforming
The first-century Christians had to sort out Jesus from Judaism in order to become a people for all nations. Today, we have to sort out Jesus from our religious traditions in order to make Him available to our nation. That's the challenge we face: Will we be the church without walls, communicating a gospel free of traditional and cultural trappings? Or will we continue to reproduce our forms and structures, hiding the essence of the gospel within?
https://wordsearchbible.lifeway.com/freefriday?g=1003
<><
To Access Book, use WORDSearch (QuickVerse) Bible App
Wordsearch Bible App for iPhone
https://apps.apple.com/us/app/wordsearch-bible/id484607082?mt=8&ign-mpt=uo%3D4
WORDSearch Bible App for Android (Copy & Paste Link if having issues)
https://play.google.com/store/apps/details?id=com.lifeway.wordsearchreader
WORDSearch STARTER for PC (With 10 Free Books) (Copy & Paste Link if having issues)
https://www.wordsearchbible.com/apps/wordsearch-starter
Additional FREE WORDSearch Books (Copy & Paste Link if having issues)
https://www.wordsearchbible.com/products/free
Web Access
https://wordsearchbible.lifeway.com/apps/web-app
<><<><